STARTING POINT –  This Sunday we continue our Starting Point Class in the Educational Wing during our 10:45 am service. Come find out the basics of faith.
MEGA BAPTISM – We are excited to announce our Annual Mega Baptism being held for the first time at our NEW Huntsville campus! Sunday April 29th at 5:00 PM  To register click the registration link below  . If you have any questions Contact Rita Sutton at 356-533-9292 REGISTRATION
MANIFEST REVOLUTION – 
On Friday May 4th at 6:30 PM Manifest Reveolution Youth will be hosting their 3rd annual VERGE MOVIE NIGHT! This will be a night for the entire family to come out and enjoy games, laughter and a movie! Oh! and What's a movie without snacks? We have you covered! Concessions will be available and all funds go toward sending students to Camp!! Stop by the lobby or see us upstairs to get your tickets! You won't want to miss the fun family night!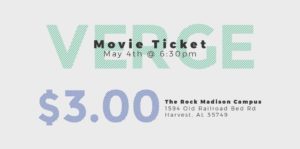 NEXT STEPS –  You can register online or at our info desk for our June Next Steps Seminar. A set of 4 weekly sessions to getting  you connected here at The Rock Family Madison Campus Next Steps registration